Trade Days
2011 Dates

Oct 14 - 16
Nov 18 - 20
Nov 25 - 27
Dec 16 - 18

Trade Days
2012 Dates
Jan 20 - 22

Feb 17 - 19

Mar 16 - 18

April 20 - 22

May 18 - 20

June 15 - 17

July 20 - 22

Aug 17 - 19

Sept 14 - 16

Oct 19 - 21

Nov 16 - 18

NOv 23 - 25



General Info.

830- 990- 4900

Vendor Info.
210- 846- 4094 Email:
fbg@moment.net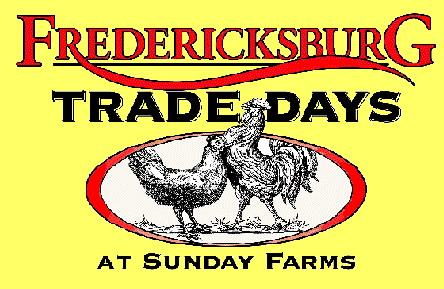 Auction Friday oct 14th at 7 pm
in the biergarten.
Please call Tonya Rogers at 512 217 1776 aut # 16203.
Taking consignments!!!
"Experience the excitement of Fredericksburg Trade Days at Sunday Farms in Fredericksburg, Texas.
We are near the Pedernales River, wineries, Lavender trails, delicious country peaches, Luckenbach,
Enchanted Rock,and hundreds of bed and breakfasts.
It's something to crow about!"

"Relax in the biergarten while listening to live music.
We offer over 100 varieties of bier and Free WiFi."

Weekend of 3rd Saturday
Every Month
Hours:
9 a.m. - 6 p.m. Friday & Saturday
9 a.m. - 4 p.m. Sunday

Shop with Over 350 Vendors!

You will find 6 barns & acres of:
"Antiques, collectibles, tools, crafts, shabby chic, primitives,ranch furniture, hunting accessories, candles, unique clothing, jewelry, food and so much more."
Front pasture available for special events with hook ups for
RV camping. RV, car & motorcycle clubs are welcome!

Physical Address:

355 Sunday Farms Lane
Fredericksburg, Tx 78624

Mailing Address:
P.O. Box 341
Stonewall, TX 78671

7 miles East of Fredericksburg on Hwy 290
across from the Wildseed Farms.
For lodging & dining visit: